Today we saw the (also cold) Temple of Heaven and the infamous Pearl Market.

It was a day with our new friend, Jian Hua.
Chinese medicine.
Tracy woke up with a cough, so Jian Hua and Humphrey went out to get her some traditional Chinese medicine... it's thick, not too tasty, and seems to be effective.
The Temple of Heaven
Some things are bigger than the Forbidden City.... today we went to the Temple of Heaven - where the Ming emperor would go to ask the gods for a good harvest. It's the last surviving example of Ancient Ming architecture. It's all built around the theme of the 9 levels of heaven. The emperor and his posse would enter the temple (through different gates, of course) and follow a path, with several stops, to the temple itself. First stop, change clothes... and then the rest of the prayer road.
Tracy and Jian Hua on the steps leading to one of the stops of the prayer road: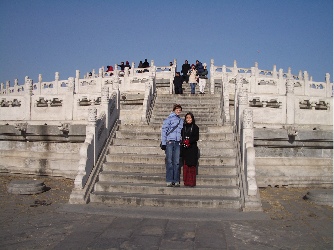 Here's me in the center of the 9 levels, asking for access to the temple; which is in the background.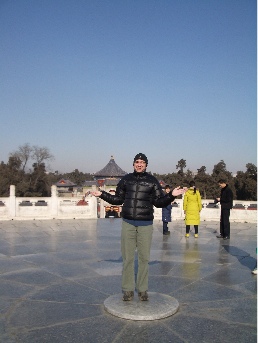 And here is the temple itself...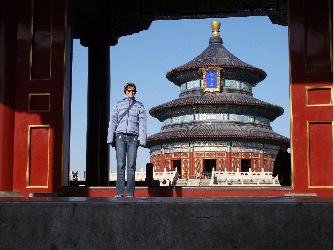 Nice coat - starting to look familiar? By this time, Tracy is quite ill.
Next stop, lunch... we stopped at a little cafe and ordered rice, tofu, and chicken - just as a snack. It cost about $3, including drinks (coca cola) - appallingly expensive - but it's in a park. What can you do? It's about a mile to get out of the park... in all directions.
I asked Jian Hua if the coke was made with corn syrup - but she didn't quite understand me... what's the character for sugar?
While we were eating, Jian Hua was chatting with the staff, who asked if all americans use chopsticks left-handed... Jian Hua had a hard time explaining that both Tracy and I were not forced to change to right handed, as she was. Before coming, the etiquette book I was reading made me think it might not be okay to eat with the left-hand so I had practiced using the sticks in the right hand before coming... so I switched a few minutes later. That got a nice laugh.
Jian Hua is a big fan of music and the Temple of Heaven park contains a Museum of Music - where we were going next... only 750 meters from lunch; or say the signs. It was colder inside the building than out - all in all, not good for Tracy.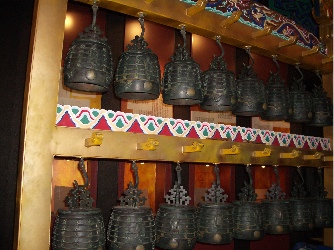 If you want to find THIS museum, read the signs... there's not Starbucks in the Temple of Heaven for providing bearings. :-(
The Pearl Market
Next up for the day, the market (after much debate about did Tracy want to walk through a market - assuming it was outside) - but surprise, it's almost a mall!
Walk in and you are immediately assaulted with sales pitches for reading lights, leather goods, cashmere (of course), silk, and for me, BELTS!
It's a cacophony of
"Here Nice Lady"
"Buy a belt?"
"Special Price for you! - You so pretty."
"Sir, buy a belt! Have your size."
Deny the pleas after browsing and if you are not actually grabbed to prevent leaving, you get:
"No looking, just buying."
(After all the admonitions to buy a belt I had to check that my pants weren't around my knees.)
Dinner.
Because Tracy was feeling wrecked, it was going to be dinner with me, Alex, Humphrey, and Jian Hua at 6:15. I took Tracy up to the room while Jian Hua waited to meet Alex in the lobby. Turns out she heard "quarter 'til" and told Alex 6:45... so I got to wait with her when returning and have a long conversation. She really is one of the nicest people ever... we talked about all sorts of geeky things (and religion, and some stumpers like "What is aikido for?").
Some highlights from the philosophy of Jian Hua... "Dinner is for conversations first, then food." (She doesn't really eat...)
This was right after she told me about "Humphrey Time" - she quoted a famous Chinese philosopher, whose name escaped me, however, "Time is life, being late wastes time, so tardiness kills part of those who you make wait." I won't name names... but these are words to live by.
Dinner was chinese "fast-food" just down from the hotel... not Panda Express. You would not believe how many dishes our hosts ordered... 15 for the 4 of us, or more. It was really tasty... of course.
The last of the Scenic Sopts?
We're planning to go to Xi'An in a couple of days to see the terra cotta soldiers; so this may be the last of Beijing's scenic spots that we get to see.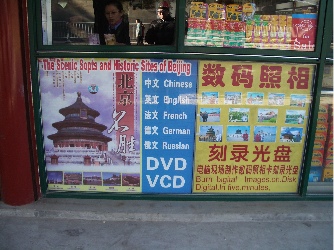 But tomorrow, we make a visit to Humphrey's home - Tianjin. This is so we can see the college town and the technical and economic development area (TEDA); which is a planned city nearby.