Seeing the Summer Palace (in winter)
The Great Wall visit has been delayed - too many stairs on Thursday! We'll see that on Saturday...

Today, Friday, we went to the summer palace (complete with lunch - can you say squirrel?), saw Alex's apartment, met with more Chinese engineers, ate Shichuan (szechuan) and I had the rumored one-hour massage for $10 (hey, it was another day of steps!)
So this will be lighter on photos, they take too long to upload... there'll be more later, perhaps after the lines in Taiwan are fully fixed.
We didn't do the Great Wall today - our companions, Alex and Blaine, were quite sore from all the steps yesterday and Saturday, more of their chinese friends can join us.
So, introductions are in order - we're traveling with two americans, Alex and Blaine. I know them though a technical committee and open source project that we all participate in. Alex lives in Philly, is nearly fluent in Mandarin, and has an apartment here in Beijing. Blaine lives in Manila... yes, that Manila. Super nice people; albeit camera shy.
We're also spending a lot of time with Chinese friends, Humphrey and Jian Hua. They both live in the area, speak reasonable English (and Jian Hua speaks some Russian too - go figure). They've been quite gracious and fun too... and also camera shy.
Okay, the palace: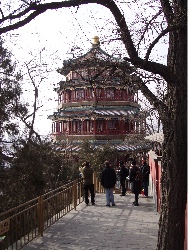 That's just a tiny portion - it cost 20 tons of silver to build this palace - way back when. For that, you get more than one pavilion.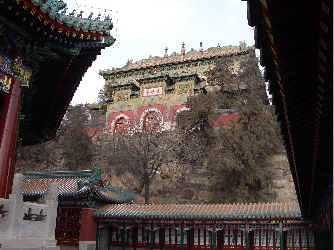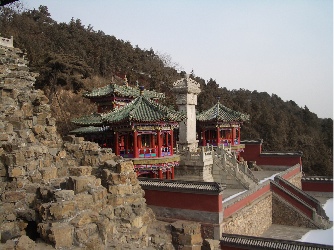 and so on... and of course, there's lunch. So Alex did all the ordering, and said that "squirrel" was on the menu and the order of the day. We were supposed to identify the dish that was the squirrel.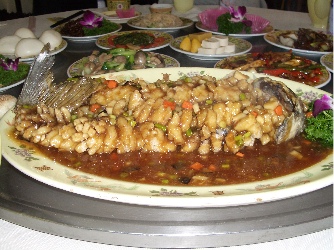 Yes, it looks like a squirrel tail? It's squirrelled fish... someone very talented made all those cuts before frying...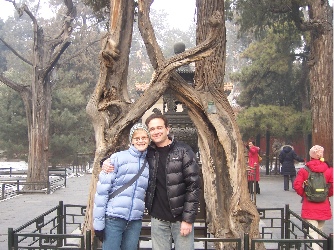 But enough about food...
After a dinner of spicy catfish, more duck, more fungi, more tofu, and generally just more of everything, we went for massages (well, Alex and *I* did.) That was most interesting, and was followed by tea.
A massage after 10,000 stairs. $10
A cup of tea after the massage. $20 (even Starbucks could learn something here.)
Tomorrow is the Great Wall.... more stairs!!
Posted: Fri - January 5, 2007 at 04:57 PM