Okay, at least one did. Today, we visited the former home of a merchant who was killed by the emperor for being too rich... or so they say.

But first, Tracy had a massage too! She might be hooked... darnit.
Not Just Massages.
Um, yes, we started the morning with massages... I guess it's a theme.
And then off to the house of the rich dude... wow... nice gardens, lots of fountains, and beautiful buildings.
Oh, and it's a hutong (old maze-like Beijing neighborhood) - which Tracy has been begging to see. This hutong starts next to the tourist information center, right behind the Starbucks. No, I'm serious; and yes, we did stop there. It's cold... two visits in 8 days is okay, right?
Here's the info center: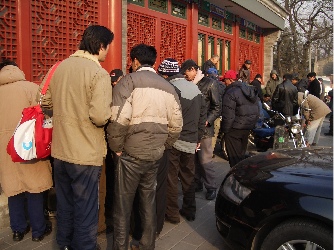 Well, the front, complete with gambling rickshaw guides.
Entering the hutong (of sorts).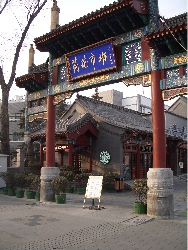 And the hutong...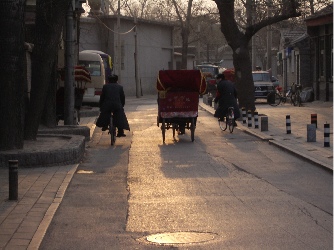 And Tracy with some Taiwanese friends in the "Palace of Prince Gong".
And then we had to run home - we'd booked tickets for
The Legend of Kungfu.
It's billed as the most exciting kung fu show in the world... best I've ever seen.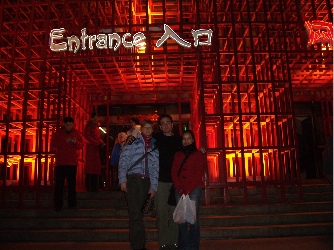 These are some of the performers...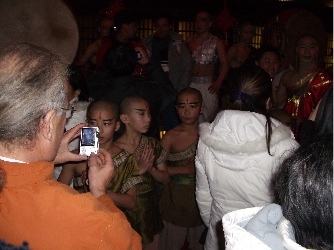 They are apprentice monks... they can do a back round-off using their heads instead of their hands... and can link them together! They look to be about 8 - Kayleigh better get cracking!
Seriously, it was very very impressive... I guess getting back to aikido will be demoralizing - sort of.
Ah, the show came with a driver - Tony. Tony used to do Judo (he was Beijing's champion in high school) and was very interested in aikido.. asking to see some... yikes.... but apparently I can do a second control on demand. Sorry Tony.
And Tony taught us all how to escape attackers with a nice finger to the eyes trick, and if they grab your hair... ask Tony for a demonstration (or Tracy.)
Seriously, Tony the tour guide was almost as entertaining as the show... he sure made the van ride easier.
After the hutong and the show, Alex and I revisited the Rumours bar ('cause we'd only had one meal and it was almost 10:00pm, what the heck?) and the Filipino bar band. Being just the two of us in the bar, it was an all-request set.
Ask me again for the videos.