We return tomorrow morning... man does time fly; and soon, so will we.

Today was filled with, you guessed it, massages for all of us... the works... sort of.

And then lunch (of course), shopping for a couple souvenirs, dinner with our many new friends, and a final night on the town for me.
Heading home tomorrow... :-(
I realized that with all this talk of food, I've neglected breakfast... well, Tracy was worried before we left that we'd have no options. She packed some emergency rations just in case. Turns out, the buffet in the hotel has all the American stuff, Indian, Japanese, Chinese, British and Continental - not to worry!
Here's the view from the table we sat at most mornings...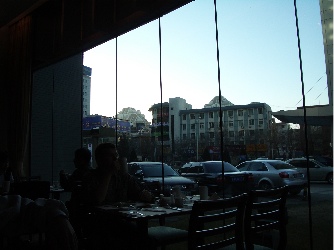 and the pastries...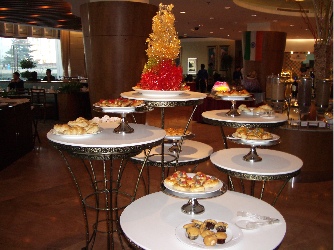 After breakfast, we started the day with massages - Tracy included - she is indeed hooked.
Entering the massage house: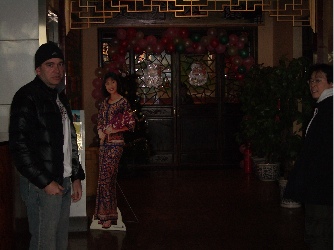 This time was foot massages plus full body... the works. Oh, and I had this 'interesting' ear massage too.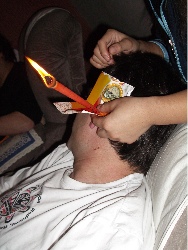 On the way back from massages, lunch! Yes, lunch, at Wal-Mart, mostly because it is close. Okay, the Fairwood in the Super Wal-Mart... to be more specific.
We shopped some parting gifts after lunch... just simple things like a coffee machine for Alex. Who would have guessed that there is a Wal-Mart in the world that doesn't carry Mr. Coffee or Mr. Coffee-esque machines? Nescafe had to suffice. :-(
We also got a plant, chocolate, and playing cards for Jian Hua and Humphrey. (Humphrey lost his cards while guiding us through the Tianjin shops.)
This Wal-Mart was, well, convenient... we don't normally shop there... but at least today I learned the characters for "Always", "Low", and "Prices".
Ask Tracy about the walk home from Wal-Mart...
After that, we rested and blogged for a few hours (probably should have had another massage ;-) ) before a final dinner with friends... the exchanging of departing gifts... great conversation, and some more duck.
Emily and her hubby: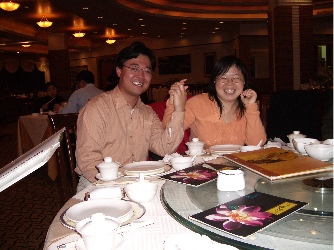 One more photo of Jian Hua, and Barry... "super Chinese Java developer."
(Humphrey was stuck in Tianjin with his professor...)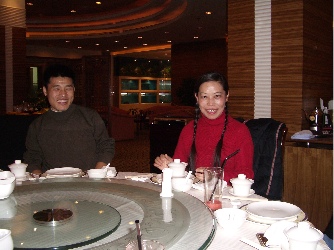 I was going to show you the food - duck again... (and more abalone tofu, spicy fish, hunan shrimp, etc, etc, etc - oh, and white fungus pudding for dessert.)
In lieu of food, how about the teapot?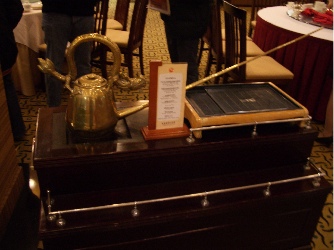 It was difficult saying good-bye... Tracy was all choked up. Hopefully we made some long-term friends - I think so.
And now, the finale - a night on the town in the Suli Wong (bar district.) Alex never sleeps and neither does Beijing (Tracy, however, wisely chose to stay out of the smoke). Yes, Alex insisted I see the western bars (again) and karaoke - who am I to say no?
It was, as they say in Asia, 'interesting.' - more about that, later, maybe.
On second thought, definitely, as they say it in India - 'maybe.'