We were planning on going to Xi'an today, but decided that tomorrow would be better as we are all quite tired. We're not feeling well, so no trip to Xi'an today, this is our day of rest - even though it's day six. The soldiers will have to stand guard some more... :-(

Resting means coffee house, rest, going to lunch, then the Lao She Tea house, and finally, dinner - and finally finally, visiting Jian Hua's house. Oh, and I then had a massage.

Did I mention that we are resting?
Day of Rest
Tracy woke to a craving for coffee at the SRP Coffee across from the hotel. "No Full Stops at SRP Coffee" - that's the slogan... huh? The coffee is passable, if you like salt. Seriously, it was decent. They also have wifi - but alas, that didn't help with blog uploads. :-( I saw at least two stops, don't know if they were full or not.*
After the coffee house we rested a bit and then headed off to a hotel to have lunch before Alex had a "short" business meeting. We planned to shop while he met a new contact.
The hotel was quite swank: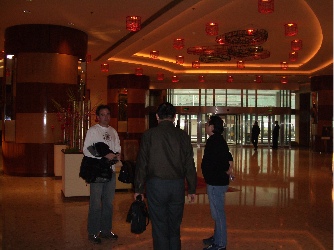 As you can see, Humphrey is acting as guide again... such a nice guy.
Lunch? It was salad for Tracy and lamb chops for me... I can't resist the prices... well, the bars aren't cheap. Maybe that's good... or maybe we're going to the wrong ones.
Alex said his meeting would be from 3:00 to 3:15 - so we planned on 45 minutes - there's a mall of sorts under this hotel. Complete with Papa John's! We could have had sweet pizza...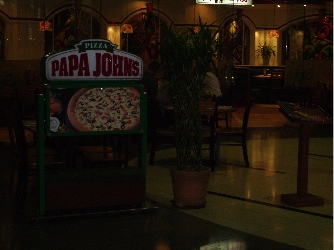 We talked to the rug merchant too... thankfully his boss was there that day so we could get a good deal. Yeah, right. I've heard that story at the Honda dealer at home. In the end, no rug... bummer.
At 3:45 we went up to find Alex, but he was still meeting his friend. We sat in the same bar and ordered two cranberry juices and a ginger ale. $15! That's what the salad + lamb cost! Yep, wrong bar.
Next up, the Lao She Tea House - very famous Beijing Teahouse.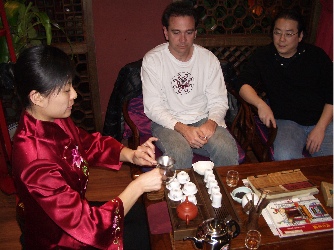 It's an elaborate ceremony, Tracy is taking classes when we return... we had tea two grafts removed from the most famous tea tree in all of China... it was very tasty and very expensive, I think. Apparently one graft removed is dot-commer territory and from the tree itself, Buffet and Gates. Perhaps I exaggerate...
We are a little rested now.
For dinner (it was a high calorie day of rest) we had duck again (and the best tofu in the world). Hey, when in Beijing. The tofu was almost a disaster - Alex wanted to go there specifically for that and they said they didn't make it anymore! They stopped last week... but alas, they found the recipe, or something - all I know is the tofu came out, was a unique and delicious texture, and didn't taste at all too fishy; even with the abalone in there. Seriously, it might be the best ever - but they don't make it anymore...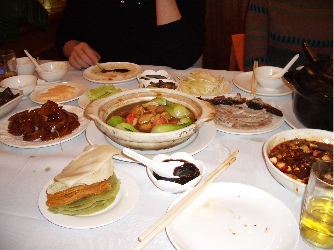 Okay, we're rested now.
Um - an attempt at capturing the sunset.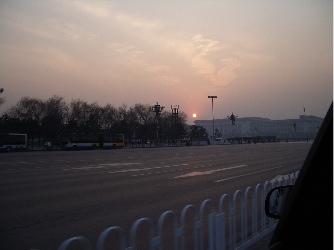 Our hosts for dinner: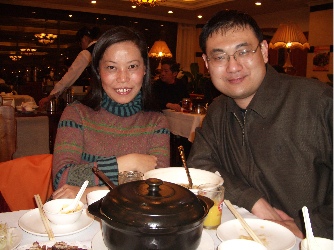 Jian Hua invited us to her home after the dinner - where she showed us her apartment, plants, books, and music collection. We shared fruit and chocolate and got to see a slice of real life in Beijing. It made me really appreciate home... especially after "resting" up six stories worth of stairs.
Are we rested? Now we are rested - finally!
We actually got back to the hotel with time for a massage for Kent... whoo hoo. Tracy wanted to
rest
... whatever.
In the interim between hotel and massage, I
thought
we decided that Xi'an is not going to happen - so told that to Alex on the way to the massage place. So no Xi'an - getting up at 5:30am for the flight seemed a tad too much, and Tracy didn't want to risk being sick(er) for the flight home. Xi'an is a 2 hour flight, 8 hours of museum, overnight, fly back... not ideal for a sicky.
After the massage I returned to a hotel room only to see Tracy's packed bag - she's a trooper; all ready to go! But alas, the choice had been made - better not to risk flying the pacific with a fever.
Hopefully there will be another trip to China in the not too distant future.
So tomorrow, we'll, here it comes...
... rest.
Full Stop
*Yes, I know what a "full stop" is; this is a bad joke.