Sun (the company), more books, hanging around, and a visit to the Oslo Aikido Dojo.
Sun Oslo
So this morning we decided to go visit the Sun site in Oslo. This was to talk to friends of Alex (and Tripod). The introductions were most welcome. The actual site in not really a site per se - it's offices in a small Mall, almost a strip-mall. Once inside, it looks like most other Sun sites, same colors, etc... of course, they have a cafeteria :-( that was quite good - yes, we stayed for lunch.
More Shopping for Books
"What do you know? There's a bookstore in the mall." They too do
not
have electronic Norsk-English dictionaries.
The rest of the afternoon was spent hanging out at the house; just 'cause. That was quite nice, relaxing and all.
Of course you have to hear about dinner, this time it had to be quick... back to the burger bar, this time for a fish dinner... at least for me. It was huge and not too bad. Kayleigh had a giant hamburger, which she seemed to love, and Tracy, oh, I forget. I guess the place is more convenient than good.
Why so quick? There was an aikido class that I wanted to attend, starting fairly early, like 6:30. It was at the Oslo Aikido dojo - which is only a mile or two from the house. They practice a different style, Aikikai... versus Yoshokai. Google can lead you the explanations, but suffice it to say, the forms are quite different. Okay, it didn't suffice. Aikikai is the form that the grandsons of aikido's founder (the O-Sensei) teach currently. It is "softer", more focused on developing ki than the "hard" styles, like Yoshokai. Got it? Yoshokai is pre-war, Aikikai is post-war and softened by a then older O-Sensei. Anyhoo...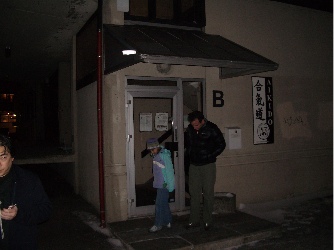 The class was different, and very eye-opening. The sensei (Erik) lent me a dogi (uniform) to wear during class. I was quite nervous, but the structure of the class turned out to be similar... we bowed-in (but quite informally),we did warm-ups exercises (none of which I'd really ever done before), then falls and rolls (also very different and therefore difficult for me.) This was followed by learning three techniques, and as the sensei said, in their order of importance for learning the rest of aikido. All this was followed by an after-class exercise, bow-out, sweeping of the mat, and good-byes and thank you's. I want to talk about of few of these things.
During bow-in, the sensei asked me to introduce myself. I just gave my name, where we live, and the length of time I've been studying. It occurred to me a few days later that perhaps I should have named my teacher, and his teacher, and so on... or perhaps not. I think in a more formal dojo that might be expected? I'll have to ask. Oh, thankfully the entire class was happy to have it conducted in English - I know I was.
The three techniques - ikkyo (even the name in Japanese is different - we'd call this ikajo), iriminage (step and throw), and shihonage (all-direction throw, although there was no actual throwing in this class). Doing these in a different style was very interesting for me... it made many things more clear within my own style - I won't try to explain here - but comparisons and new adventures are, of course, a good thing.
The people at the dojo could not have been more friendly or more welcoming, there was nothing to be nervous about.
After aikido (which Kayleigh, Tracy, and Alex watched because I couldn't convince them to join in) we went to house and decided to have a taste of the Norwegian national drink (as in alcohol, shhh) - Aquavit. Um, it's interesting. I think you'd have to love caraway to love aquavit (or have been at sea for a very long time.)