Fri - New Friends
Today is the day to get a feel for Oslo. We started by shopping in the city center (not books), had lunch, shopped, and then went back to the house for a home cooked meal and more aquavit. (oh goody)
Shopping in the City Center
Truth be told, we got a bit of a late start so shopping meant walking past the shops on the way to lunch. It was warmer today... so Kayleigh was happier. The Norwegians seemed much happier, apparently the low 20s are about where one can opt not to wear a jacket. Yikes.
Lunch at Christiana
This is a new restaurant in a very cool old building - a LARGE bay window (hey, I'm not an architect, but it's a large round window surrounding the entire dining area) gives tons of light. Very nice, with old wood tables and chairs, and a menu of gourmand pub food, for the most part. I'm sure there are pics somewhere ;-) I had an omelet that was most excellent. Kayleigh opted for shrimp, lots of shrimp. And Tracy - again I forget... I'm sure she eats.
More Shopping
Off to the chocolate store! And the bakery... to get at least 2 pastries per person for dinner's dessert. Both shops were just wonderful... one could get very "happy" here.
A Home-Cooked Meal
Our hosts were way to nice... for a few hours after arriving from New York on a long flight, they cooked us dinner - shrimp! Kayleigh looked like a prawn by the end of the day.
Here's a pic of our hosts: Berit, Vidar, and Froydis.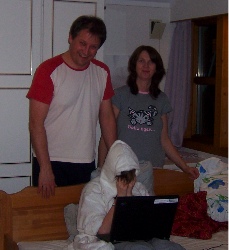 After dinner, Ruth, who is currently, yes currently, working in a brewery - but who used to be a model, a geologist, a roughneck on an oil-rig (in the gulf of Mexico even), and a upto 50-ton pilot of ships... and who is know hoping to become Norway's second certified wine master - got a party started. (She's still Berit's sister and still on the right.)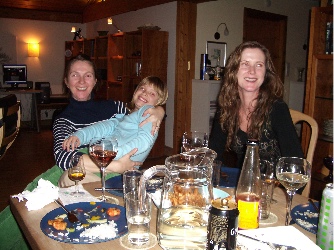 Um yeah - Kayleigh was quite popular with Berit. Shocking.
We brought the dessert... the aforementioned pastries.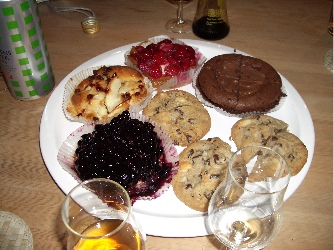 Posted: Fri - February 23, 2007 at 10:39 AM